Upper install
:
Tools needed
:
Floor jack, wheel choke, screwdriver or ¼" socket extension (to line things up)

8mm open/combo wrench
: for zerk fittings

17mm socket and Open end/box combo wrench and a self-ratcheting
:
for link hardware (nut/bolt)

Large adjustable or crescent wrench
: for jam nut
Lube
: suggested moly based, used Super Lube synthetic with PTFE, antiseize for bolts
Place wheel chokes on the tires and
remove one side at a time
. (Yes I installed these with the tires mounted.) Similar to the lower link install use a ratchet strap or tie down from the frame to the axle to hold the axle in place or prevent moving. The driver's side nut is a PITA, (the nut above the gas tank). An open/compo self-ratcheting wrench is key on this nut/bolt . I used another open/combo wrench to break free the
NUT
and again to tighten (cheater). A 17mm crows foot may also work. One note on these bolts/nuts,
only the nut itself will need to be broke free
. The bolt seems to stay in place. If you have a spare mounted underneath it will help to remove it. I removed the axle side first, then the frame mount.
Assemble links
: Rub grease all over the poly bushings inside/outside and slide them in. You may need to use a rubber mallet to install the bushings. Remember the zerks are for maintenance greasing only. Speaking of zerks, it may be a good idea to but 90* zerks on the JJ's. Size ¼-28, will do I the future.
Line up links to the stock ones and make any adjustments needed. If you plan on adjusting them a little less or more than stock you will need to measure the drive shaft flange angles. I shortened mine slightly to help with pinion angle. One of my Jam nuts was stuck and pretty hard to break free without a Bench vise. I used the spacing in my rear bumper to hold it in place while adjusted the jam nut free.
Once the desired length is achieved, tighten the jam nut as tight as possible. Now you are ready to mount them.
The JJ side goes on the Frame mount and the poly goes on the axle side mount. Installing the JJ into the frame side first, then the poly into the axle. May need to slightly pry or tap the poly side down into the mount. Reusing the stock hardware, Hand tighten both sides and torque them down to 59 lbs.
My old bushing:
New upper links installed: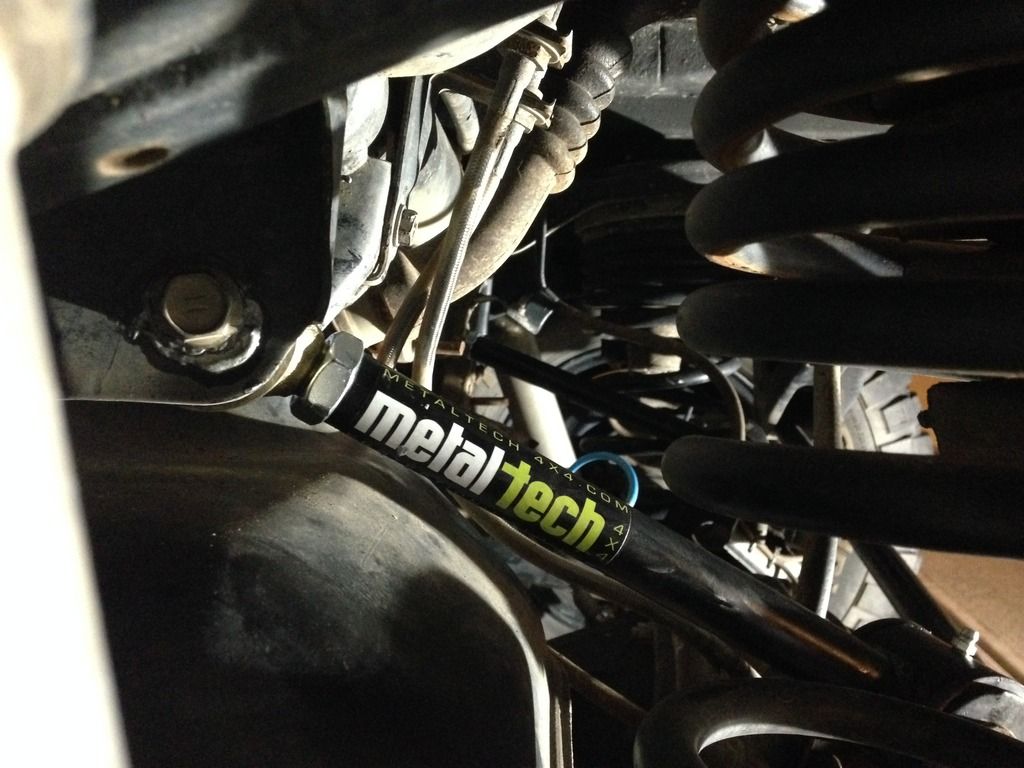 __________________
2008 Black 4X4Runner SR5 V6, Total Chaos Race series 2" plus kit, King 700 lbs LT coilovers & MetalTech stage 5 LT rear, 315/75R16 KM2, Strike 6 16x8.5 -6 wheels , Demello offroad 3 hoop, 4X4Labs rear, ATO, RCI ,BudBuilt, Stubbs sliders, 4Crawler B/L 3/4", DynoMax , K&N , Speski barrier, sPOD, ARB CKM12, ARB locker front/rear 4.56 gears WMW roof rack
Darklight's Build